THE CLEARINGHOUSE
The Toxics in Packaging Clearinghouse (TPCH) maintains the
Model Toxics in Packaging Legislation
and coordinates implementation of state legislation, based on the Model, on behalf of its
member states
, with the goal of promoting consistency across states. TPCH is a resource and single point of
contact
for companies seeking information on toxics in packaging requirements or an exemption.
Read more

»
Become a Member
Benefits include:
Public technical assistance
Forum for discussion & coordination with other states
Outreach to stakeholders
Packaging research and testing
Legislative review
Read more

»
WHERE WE ARE
The Clearinghouse includes a states-only voting membership and an industry/public interest advisory group. The legislation has been successfully adopted by nineteen states.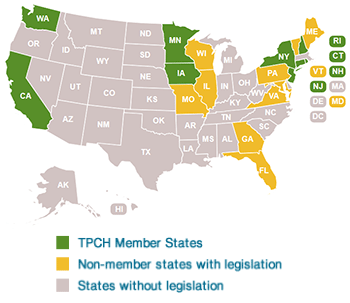 Read more

»
WHAT'S NEW

Receive Updates from TPCH Join our email list!
Receive Updates