THE CLEARINGHOUSE
The Toxics in Packaging Clearinghouse (TPCH) maintains the Model Toxics in Packaging Legislation and coordinates implementation of state legislation, based on the Model, on behalf of its member states, with the goal of promoting consistency across states. TPCH is a resource and single point of contact for companies seeking information on toxics in packaging requirements or an exemption.
Read more

»
Become a Member
Benefits include:
Public technical assistance
Forum for discussion & coordination with other states
Outreach to stakeholders
Packaging research and testing
Legislative review
Read more

»
WHERE WE ARE
The Clearinghouse includes a states-only voting membership and an industry/public interest advisory group. The legislation has been successfully adopted by nineteen states.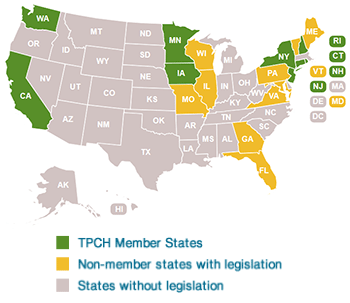 Read more

»
TPCH Draft Model Legislation Update – TPCH Reviewing Public Comments Received
Click HERE to download the Call for Comments, Background Materials and the Draft Update to the Model Legislation 
The Toxics in Packaging Clearinghouse (TPCH) thanks everyone that  submitted comments to the draft Model Legislation Update. The comment period closed on August 24, 2020 and the comments are now in the process of being read, catalogued and summarized by the TPCH Executive Committee and staff. In order to provide a thorough and diligent review of each comment, TPCH anticipates the final review of and response to all submitted comments to take place at the upcoming annual meeting scheduled for the end of September. We anticipate posting them on the TPCH website in early October. At that time the full list of commenters and unedited comments will be available and shared with all interested parties. Thank you for your patience during this process.

Receive Updates from TPCH Join our email list!
Receive Updates